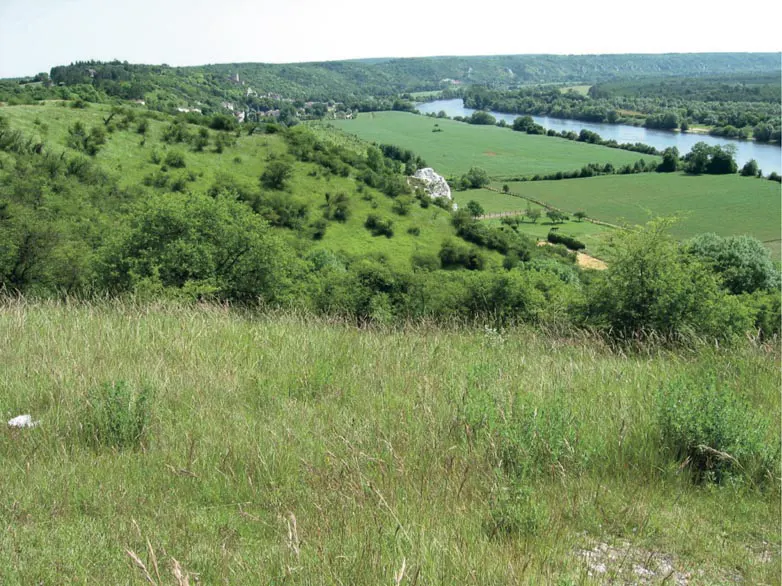 Vous souhaitez en savoir plus ?
Occupying part of the Île-de-France and Hauts-de-France regions, the French Vexin is a vast limestone plateau crossed by the meandering Seine River. This atypical natural space covers an area of 1,400 km2, part of which is protected under the status of regional nature park. Would you like to discover the ecosystems it contains and the activities you can do? Take advantage of your vacation at the Loisirs des Groux campsite in the Yvelines to venture into the French Vexin regional nature park.
Cities and places of interest in the Vexin
From your campsite near the Vexin, it takes about an hour by car to reach Pontoise. The historical capital of this natural region, a city of art and history, has a dozen historical monuments such as the Saint-Maclou cathedral, the Notre-Dame church, the former hospital of the Enfermés and the oldest carmel in France. Take a walk in the rose garden of the town hall and in the garden of the Five Senses near the Pissarro museum. Visit the castle of Auvers and its show trail, the Ravoux Inn in Auvers-sur-Oise where a certain Vincent Van Gogh died, the historical heart of La Roche-Guyon which belongs to the network of the most beautiful villages of France, the archaeological museum of Guiry-en-Vexin and the castle of Ambleville.
What to do in the French Vexin ?
Hiking, horseback riding, mountain biking, cycling on secure trails, golf, fishing, paragliding and hot air ballooning are among the main outdoor activities that await you in the French Vexin Regional Nature Park. The park is crossed by 3 long-distance hiking trails (GR) and nearly 70 other marked out itineraries that represent a total of more than 1,000 km of trails. Some walking itineraries are adapted for people with reduced mobility. Would you like to taste the local products? Meet the producers and taste the traditional products of the Vexin: honey, snails, craft beers, cider, lentils, apples… Fill your lungs with fresh air in the Morval wood, climb to the top of the Rosne hills which dominate the Vexin and take time to enter the stores of the local craftsmen to contemplate their creations. Near the campsite, the hillsides of the Seine mix limestone hillsides and marshes, with from the heights a very beautiful panoramic view on the Vexin and the meanders of the Loire. You can reach them by boat from the campsite by river. Ask us when you arrive at the campsite if you want to sail on the Seine in a canoe or a kayak.
Book your stay in a mobile home at the Vexin Les Groux campsite and discover one of the most beautiful natural areas in the Paris region!